In Part I of this four-part series we discussed the history and evolution of electronic health records (EHRs) and their unique aspects and capabilities. In Part II, we discussed the impact EHRs have on litigation and the challenges they present to legal practitioners. In Part III, we reviewed three case studies taken from actual EHRs produced during legal discovery and outlined several common issues that arise during the review of patient EHRs in claims and litigation. In this final segment, we will summarize with issues for considerations in the future, and foundational practices when preparing for the involvement of EHRs in litigation.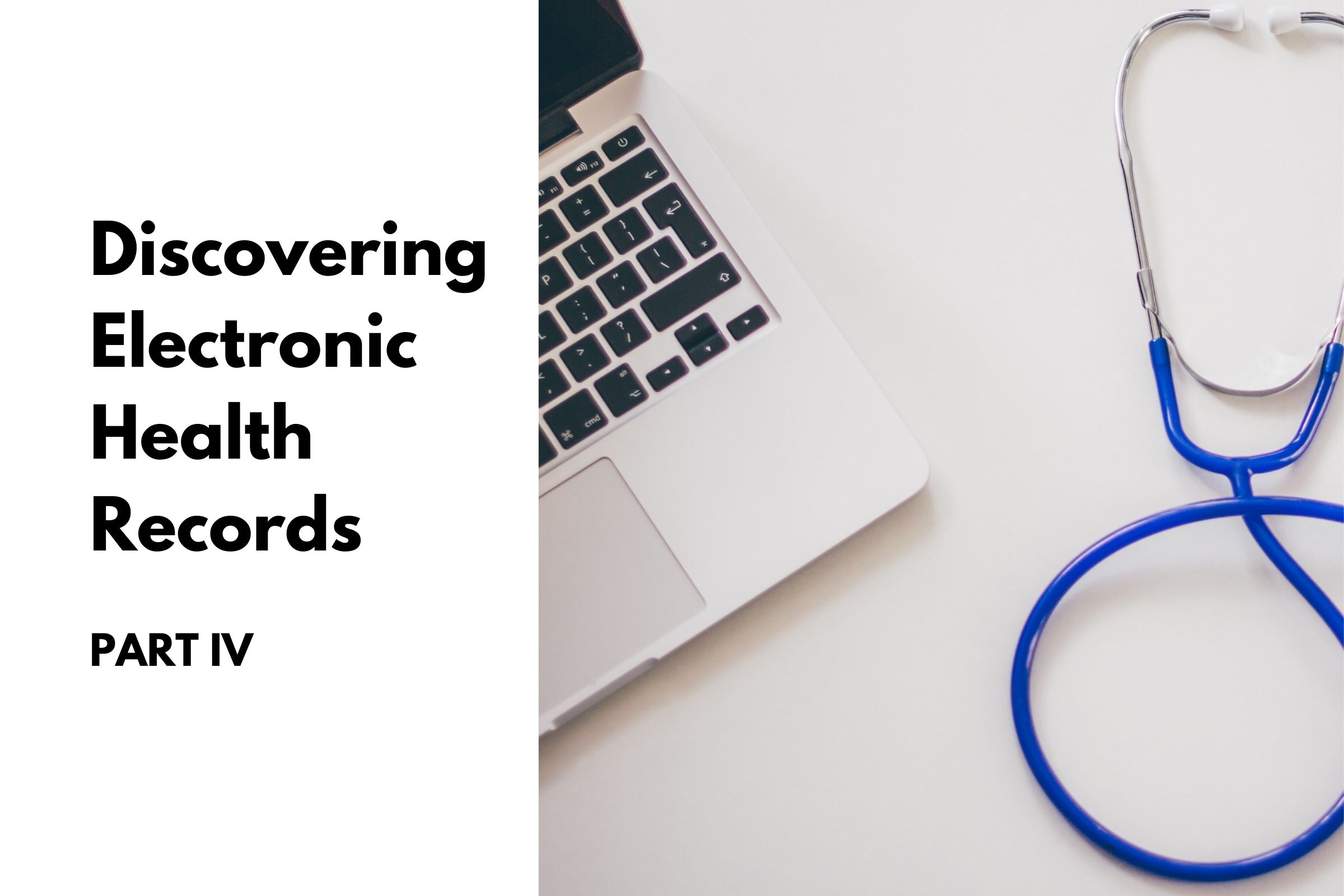 On the Horizon
This paper summarizes a number of the more prevalent issues to date, but there are many other legal and ethical considerations surrounding the adoption of electronic health record systems. The following issues are but a few examples of potential areas to watch as EHRs increase in their adoption and functionality.    
Patient Access Portals 
Patient access portals are typically secure website interfaces that allow patients to view health information maintained by their physician, print or download data, request prescription refills, schedule appointments, make payments, and even exchange messages with the healthcare provider.₁ Such patient portals are becoming increasingly commonplace, as are the potential legal and regulatory issues that must be considered. Issues include the proper management and access to records for minors (patients under the age of 18 in most states), whether to allow for (and how to manage) "proxy" accounts (granting access to someone other than the provider or patient, such as in cases involving a healthcare power of attorney), and increased data security risks. Additionally, some EHR systems (such as OpenNotes) allow patients to not only access their EHRs, but actually make notes and annotations within their records.₂ This could result in a number of issues and questions, such as who "owns" the data within the record, as well as whether patient annotations are part of the "medical record" for legal discovery purposes.
The "Standard of Care"  
In a medical malpractice claim, a plaintiff must establish the applicable standard of care, as well as demonstrate that the resulting injury was caused by the defendant provider's inability to meet that standard.₃ EHRs, especially those with clinical decision support capabilities (such as suggested diagnoses based on patient data, or adverse drug interaction alerts) may very well reshape the way courts determine the standard of care, or even change the standard of care itself. For example, if a physician were to disregard or override an adverse drug interaction warning, this could end up being used as evidence of negligence. The question might then become whether the standard of care should be based upon the suggestions made by the clinical decision support, versus the decisions of the actual healthcare provider. As the sophistication of these clinical decision support systems increases, the standard of care (or at least court or juror perception of how to interpret and apply the standard) may change right along with the technology. Notably, some current EHR systems actually prompt providers to document their reasons for overriding or disregarding specific alerts.₄
Data-Driven Health Care Delivery 
The market continues to undergo substantial change, which will very likely impact the overall delivery of healthcare services. For example, many software vendors have released mobile apps, to be used by both providers and patients.₅ Wearable health and fitness devices are transforming the way individuals track, store and share health-related data. EHR vendors may be selling de-identified copies of patient data to researchers, or even to drug and medical device companies. As more and more data is generated and amassed, there will almost inevitably be more and more ways to use the data to improve patient care and possibly even utilize predictive modeling technology to forecast potential health-related risks or communicable disease outbreaks. A fully data-driven approach to patient care may still be years away, but healthcare delivery and payment has already started to evolve with the advances of technology.₆ Legal practitioners will need to keep abreast of these changes in order to understand the associated ethical and legal ramifications.  
Closing Thoughts
Medical records are in a state of transition. Documentation, preservation, discoverability and production remain largely unexplored within the context of the legal industry.  However, Litigation Management, Inc. (LMI) has found the following foundational practices to be useful when preparing for the involvement of EHRs in future litigation:
Become Educated.
First and foremost, be prepared for electronic health records in litigation.  Understand the general concepts associated with EHRs, including how they differ from the more traditional paper records. Attend seminars, perform research, or have an associate pull together a primer on how EHRs may affect a specific claim, litigation or practice area. By having a general understanding of EHRs, attorneys will be better prepared to handle the case involving a thumb drive in place of a banker's box.  
Understand Obstacles.
How might the unique capabilities involved with EHRs present challenges to a specific case? Could metadata be useful? Will a provider be deposed regarding the records at issue? Has the provider produced native format copies of health records in the past? Are native format copies even necessary? Consider creating a prepared checklist of questions and potential obstacles that may arise and, as case law and capabilities evolve, provide frequent updates and tips within the checklist for future reference.
 Keep an Eye on Regulatory, Legislative and Case Law Updates.
HITECH's meaningful use and interoperability are a work in progress. Deadlines, requirements and the overall use of EHRs will inevitably continue to change, as will case law involving EHRs. Keep abreast of key changes in order to best anticipate how it may affect a specific client or practice area.    
Include IT Staff or Third Party Experts.
Electronic Health Records are a "new frontier." Similar to the explosion of e-discovery in the late 90s and early 2000s, where law and IT collided at a rapid pace, the advent and increased use of EHRs has created an intersection of medicine, technology and the law that may very likely supersede the knowledge of any one industry expert. The discovery, review and production of EHRs may very often involve IT or forensic expertise to obtain the record and make it "readable," medical expertise to understand the true "story of the patient," and legal expertise to bring the story to life for a judge or jury (as well as to provide advocacy in largely unchartered case law territory). If outside expertise is needed in a particular case, don't hesitate to use it in order to best advocate for a client.  
Information is the key to any discovery-related process. Through education, understanding, and collaboration, attorneys and litigants can increase the information available within their arsenal of discovery tools and perhaps increase their chances of success in securing favorable results for clients. Welcome to the 21st Century of medicine, technology and the law.  
Part I of this series discusses the history of EHRs and their unique capabilities. 
Part II of this series will discuss the impact EHRs have on litigation. 
Part III of this series will discuss several case studies involving EHRs.
---
References:
1.    William Roberts, Going Live with a Patient Portal – Legal Risks and Operating Documents (Jan. 2015), http://www.shipmangoodwin.com/files/31972_Physicians_Article.pdf.  
2.    Katie Wike, OpenNotes Allows Patients to Access, Annotate Their EHR, Health IT Outcomes (Mar. 11, 2015), http://www.myopennotes.org/health-it-outcomes-opennotes-allows-patients-to-access-annotate-their-ehr/.    
3.    Sandeep Mangal et al., Medical Malpractice Liability in the Age of Electronic Health Records, N Engl J Med 363; 21 at 2060 (Nov. 18, 2010), http://www.nejm.org/doi/pdf/10.1056/NEJMhle1005210.   
4.    Id.
5.    Dean Sittig & Hardeep Singh, Legal, Ethical, and Financial Dilemmas in Electronic Health Record Adoption and Use, Pediatrics 127 at 4 (2011), http://www.ncbi.nlm.nih.gov/pmc/articles/PMC3065078/pdf/zpee1042.pdf.  
6.    Id.