In Part I of this four-part series we discussed the history and evolution of electronic health records (EHRs) and their unique aspects and capabilities. Next, we will discuss the impact EHRs have on litigation and the challenges they present to legal practitioners.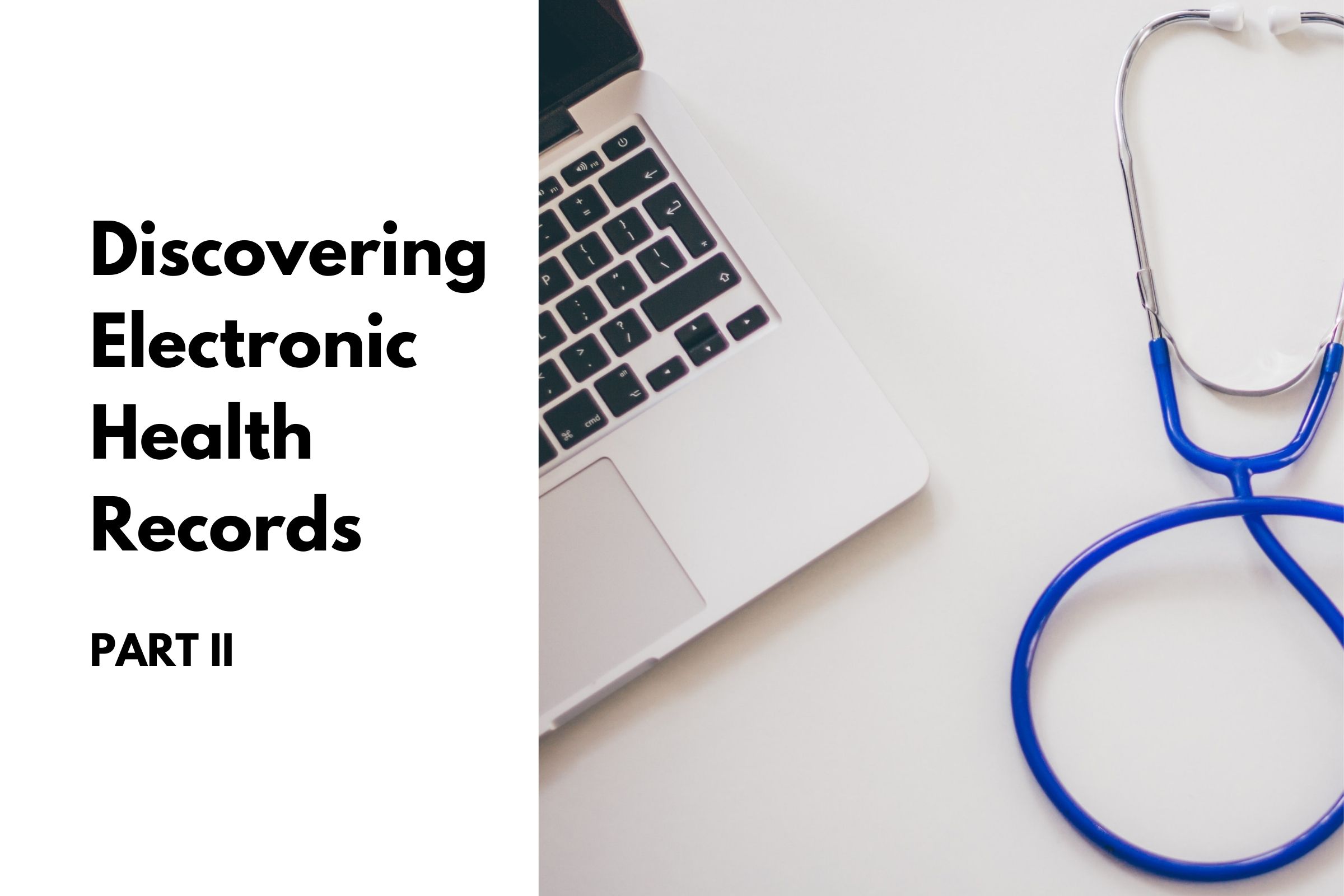 Impact on Litigation
Although there has been exponential growth in the installation and meaningful use of EHRs, the healthcare industry has been primarily focused on the implementation of the EHR systems and their use in providing clinical care, rather than on information, data governance, and policies and procedures for responding to litigation and regulatory investigations. The legal (and medical) community is now faced with the task of understanding EHRs in order to determine the impact on litigation. This involves a number of critical questions, such as:
What all is considered an "electronic medical record"(EMR) and where does the data "reside"?
How can EMRs be used and leveraged in healthcare litigation, by either the plaintiff or the defense?
How does metadata affect EMRs? When should metadata and/or audit trails be collected?
Will providers automatically send metadata, or do subpoenas or requests need to specifically define whether metadata is being requested?
If metadata is received, how can it be accessed and/or viewed?  
How do EMRs impact the volume of data received when requesting medical records?  
What are the costs associated with collecting, processing and analyzing EMRs?
Just as there are unique aspects and capabilities of EHRs as compared to paper medical records, there are unique challenges presented when determining how best to collect or utilize electronic health records in litigation.  
Data Sources & Locations
One of the first issues that a legal practitioner may face when it comes to discovery of EHRs is:  what data should be collected? With EHRs, a patient's records may involve not only the more traditional charts and entries, but may also include emails, digitized voicemails, text messages, pop-up warnings regarding potential adverse drug interactions, computerized calendaring programs, and even data transmitted from electronic medical devices or "wearable" health and fitness devices and apps. Further, the electronic data may be stored in multiple locations, including servers, PCs, tablets and smartphones.  Such data may even be hosted "in the cloud" by a third-party service provider.  
The myriad sources of data are something of a unique challenge. The healthcare providers themselves may not necessarily understand what all needs to be preserved in the face of pending litigation.₁ Historically, if a patient were to send a handwritten letter containing health information to a provider, such a letter would almost certainly have been saved within the medical file and preserved as potentially relevant information in a pending malpractice lawsuit. If that same patient were today to send a text message or email to the physician with similar health information, would the physician still save or incorporate that text into the patient's file?₂ Would the physician even know how to properly preserve a text message?  
Attorneys requesting medical records must gain a complete understanding of all the potential sources (and volumes) of data, which often requires the assistance of IT departments or even third party service providers.       
Form of Production
In a medical malpractice case, a plaintiff patient requested all relevant treatment records be produced by the defendant hospital, which was using an electronic medical record system that did not have a "print" feature.₃ The hospital had serious difficulties in determining how best to produce the data requested. Ultimately, hospital staff had to take screen shots of each page of the patient's "record," which resulted in four banker boxes full of paper that was disorganized and difficult to interpret.₄ Presumably, the sophistication of most EHR systems has advanced since that time, but the problems still persist. Healthcare providers may utilize multiple EHR systems or user interfaces within and across departments. "Print" functionality may not be built into or available in all sections of the record or system, and printed documents may be voluminous, difficult to interpret or look nothing like what the provider would see when entering the data.  
In fact, the concern regarding the form of production versus how the data is displayed onscreen to the provider of care can be quite problematic when it comes to depositions. When a provider relies upon printed copies of a patient's medical records in a deposition setting, it may look nothing like what they would see on the monitor at the time of treatment.₅ This could result in deponent anxiety, or even inaccurate or incomplete responses.₆  
Metadata
The issues presented by metadata are two-fold: 1) whether metadata is "discoverable," and 2) if metadata is discoverable, whether it should be collected in a particular case. The courts have provided conflicting opinions on the issue of discoverability. In Hall v. Flannery, the U.S. District Court for the Southern District of Illinois held that the audit trail is part of the medical record, as neither the peer review privilege nor the work product privilege protected the data, and ordered the defendants to produce all portions of the audit trail that were responsive to the plaintiff's discovery requests.₇ However, in the more recent Vargas v. Lee et al. case, the Supreme Court of Kings County, New York, ruled that a defendant hospital was not required to produce the audit trail associated with its electronic records without a showing of good cause from the plaintiff patient.₈ Compare these decisions with Peterson v. Albert Matlock, et al., where the U.S. District Court, District of New Jersey agreed that the production of medical records in native format would cause "undue hardship" on the defendant, but that the defendant must still produce the audit trail.₉ 
Should metadata and/or audit trails be considered discoverable, what might be the benefits to collection? Metadata may actually contain a veritable gold mine of information. Consider that the value of an EHR system depends heavily on the users accessing and inputting data into it. If the data entered into the system is incorrect or contains errors, the issues that may ensue down the line can be plentiful. Typos or wrong clicks can have very serious consequences in EHRs. As healthcare providers are often pressed for time, they may be trying to enter information as quickly as possible, which may result in shortcuts and mistakes.  Resulting errors may include:
Log-ins and signature errors. The use of log-ins and log-offs are rapidly replacing the more traditional, handwritten signatures or initials on patient medical charts. If an EHR is unsigned, it may not be clear whether a particular service or test was administered. Even if a system has "automatic log-off" functionality after a specified timeframe, there may still be questions regarding when the record was made or updated. Lastly, medical staff other than the individual that has initially logged in may be able to make entries or changes, thus resulting in questions regarding verification in the absence of an actual handwritten signature.₁₀  
Wrong clicks. EHR systems frequently involve a series of pop-ups, checkboxes, drop-down lists and other mouse click options. Inadvertently selecting the wrong choice is a very easy mistake to make. These types of errors are especially common with medications and lab orders.
Cut and paste errors. Many health care workers will utilize "copy and paste" functionality in place of re-typing lengthy histories that may already be contained elsewhere in the patient record. However, if the initial entry was incorrect, the inaccurate data may be propagated in multiple locations. Furthermore, the copied information (such as current medications) may no longer be relevant or accurate.
EHR changes and updates. Within and across providers, EHRs require constant updates across all health systems. However, it is not always entirely clear who is responsible for each of the updates. Furthermore, there are often delays between a procedure and the actual entry of data. If the delay is significant, memory lapses and inaccurate recall can lead to erroneous or incomplete data entry.  
Clinical decision support issues. Many EHR systems involve the use of automated workflows, pop-up menus and other clinical decision support. However, these are only effective when used properly. Alerts such as potential drug interactions or patient allergies will often display repeatedly, with the end result of users clicking the alerts without paying proper attention.
Destruction of records. Whether intentional or not, deleting information from a patient record does occur. A provider who becomes aware of potential litigation may be tempted to delete an unfavorable entry to cover a mistake, or even simply review a record for errors and make associated corrections. In either case, the results are the same:  the record as it was at the time of treatment is not the same as what is ultimately made available during discovery. Note that the use of metadata can play a significant role in identifying when and if changes or deletions were made to a record.₁₁ 
Understanding when and how to collect and review EHR metadata can provide attorneys with invaluable insight into when (and by whom) the record was accessed, updated or deleted. This may lead to a more complete picture of the patient's care in a medical malpractice claim, or even the identification of alternative causation in a product liability lawsuit.  
Part I of this series discusses the history of EHRs and their unique capabilities. 
Part III of this series will review three case studies taken from actual EHRs produced during discovery and outline the common issues during the review in claims and litigation. 
Part IV of this seriers will discuss what's next for EHRs in litigation. 
 
---
References:
1. Matthew P. Keris, A View from the Trenches: Discovery Issues with Electronic Medical Records, supra.
2. Id.
3. Chris Dimick, EHRs Prove a Difficult Witness in Court, J. of AHIMA (Sept. 2010), http://journal.ahima.org/2010/09/24/ehrs-difficult-witness-in-court/.  
4. Id.
5. Matthew P. Keris, A View from the Trenches: Discovery Issues with Electronic Medical Records, supra.
6. Id.
7. Hall v. Flannery et al., Case No. 3:13-cv-914-SMY-DGW (S.D. Ill. May 1, 2015).
8. Vargas v. Lee et al., 2015 NY Slip Op 31048(U) (Supreme Court, Kings County June 5, 2015).
9. Peterson v. Albert Matlock et al., 2014 WL 5475236 (D. N.J. Oct. 29, 2014).  
10. Marion Munley, The Malpractice Risk of Electronic Health Records, The Legal Intelligencer (Mar. 17, 2015), http://www.thelegalintelligencer.com/id=1202720405290/The-Malpractice-Risk-of-Electronic-Health-Records.
11. Id.