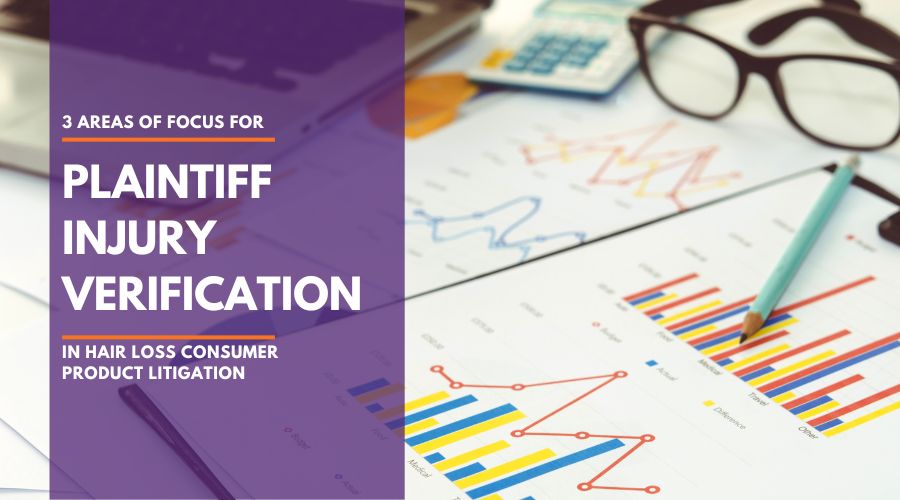 Medical record review documents and reports empower the defense to expertly harness plaintiff data into actionable insights. Cost containment is an immediate value of strategic medical record review that can be offered at the outset of litigation.
 
During the medical record review process, all details regarding the alleged injury are assessed and can be included in the final document and report. These details include product use, product type, alternative causations and risk factors, and all medications.
3 Focus Areas for Plaintiff Injury Verification in Medical Record Review 
Plaintiff Product Usage
Plaintiff product usage refers to the data that represents how and when a plaintiff used the product. This data is crucial to provide insight that can help you form your litigation strategy. Full product usage details are included, even if they are repetitive. 
Example plaintiff product usage data
Usage frequency 
Time spent using the product
Type of Product Used by Plaintiff
Product type refers to the exact product that is alleged as having caused the injury. This data represents the details obtained from medical records received from a medical provider or the plaintiff themself. The example information listed below would be taken directly from the records and included in the medical record review document and report. 
Example plaintiff product type data
Location of product purchases 
Frequency of product purchases
Scent of product 
Order numbers for purchases
Account numbers related to purchases
Number of items purchased
Who made the product purchases
Any photos related to the product and purchases 
Cost of the product 
Side effects of the product 
Correlation statements 
Alternative Causes for a Plaintiff's Alleged Injury
Alternative causes refer to potential causes for the alleged injury other than the product named in the lawsuit. This is a major area of focus in the medical record review process. These other causes can assist in building litigation strategies and categorizing plaintiff cases. 
Example plaintiff alternative causation data
Certain hairstyles worn such as pigtails, braids, cornrows, dreadlocks, weaves
Beauty products and equipment used such as hair dryers, flat iron, curling iron, hair styling products, perms, Brazilian blowouts, hair treatment products, hot-oil treatments, all-over hair color, highlights, etc.  
Sun exposure/sunburn
Radiation therapy to the head
Anemia
Poor diet
Excessive or sudden weight loss
Hormonal imbalances
Pregnancy, childbirth, menopause, the onset of ovarian disease
Stress
Mold exposure
Medications that can cause hair loss
MTHFR gene
Data drives litigation decisions. Leverage data-backed insights that are needed to make reasoned and informed litigation judgments. Taking advantage of these powerful insights early in litigation will ultimately protect your budget.   

LMI's Experience in Hair Loss Consumer Product Litigation
LMI has provided end-to-end litigation support services for multiple consumer hair product litigations. Litigations ranged from 200-2,000+ claimants requiring plaintiff fact sheets outlining alleged injuries and associated usage and/or alleged injury verification, medical record collection, and medical record review reports such as medical chronologies and overviews. Our experienced medical professionals focus on the specific needs of each client and matter. Medical record review reports are fully customizable and can be easily modified as a matter progresses and clients gather more intelligence on alleged injuries, or as legal strategies shift. 
Do have medical record review needs? Contact us today for a free consultation.