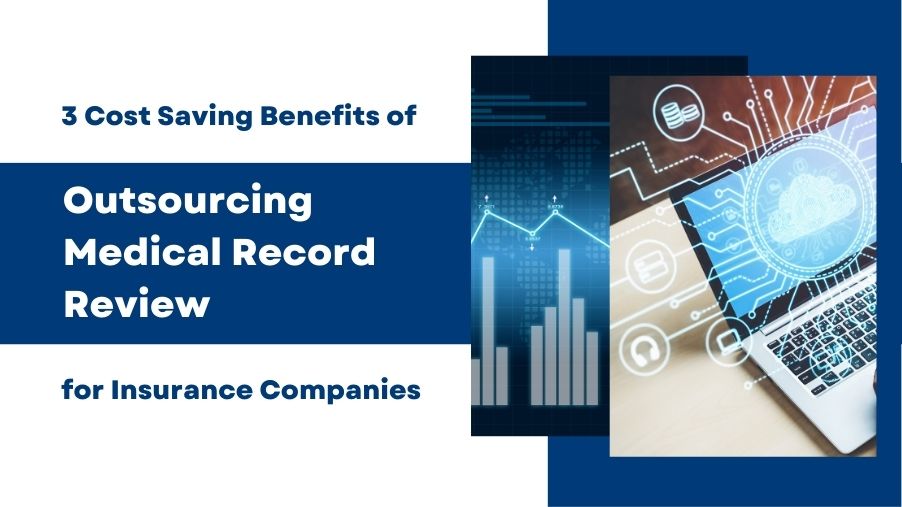 Insurance companies require an efficient medical record review process when handling injury claims. When claims require quick turnaround times that an insurance company's internal team may not be able to accommodate, outsourcing to an experienced medical record review partner will save time and money, provide accurate results, and robust organization and reporting capabilities.  
Insurers often need specialized expertise that may not be available in-house or with their current outside counsel partners. Companies with dedicated review teams employ specialized medical professionals who can provide the experience required to complete a thorough review of medical records.
Importance of Medical Record Review for Insurance Companies
Verifying medical history
Underwriting policies
Computing values of claims
Benefits of Outsourcing Medical Record Review for Insurance Companies
Searchable records
Secure data storage
Time and money 
Free up your staff for higher-priority tasks
3 Cost Saving Benefits of Outsourcing Medical Record Review for Insurers
1. Medical Record Review by Skilled Medical Professionals
Utilize a company with skilled medical professionals on staff to save time and money. Their expertise can provide the skills required to identify the most pertinent information from medical records related to the alleged injuries, keeping their focus on the most critical information found in voluminous record sets. 
These medical professionals are also skilled at identifying discrepancies in the records. For example, the plaintiff may provide different versions of the events to the healthcare providers. If the alleged injury involves a motor vehicle accident, the plaintiff may tell the emergency room doctor they were driving 55 mph, but then tell the nurse they were going 70 mph.
Additionally, specialized medical professionals are familiar with risk factors and alternative causations for various insurance-type injuries. For example, if someone is alleging knee injuries from a fall, they will look very closely at pre-existing history to determine if they had any prior knee issues/injuries.
2. Streamline the Medical Record Review Process
Medical records play a critical role for insurers and the process for reviewing them must be quick and accurate. By outsourcing medical record review, insurers can better defend their insureds, save money, and rely on their medical record review outsourcing partner for large or small assignments. 
Insurers can defend cases in multiple jurisdictions via numerous local counsel. By outsourcing these services, insurers experience consistency through centralized databases providing a single location for medical record reviews regardless of jurisdiction or defense firm.
3. Accurate Data and Reporting for Claim Processes and Settlement
Insurance companies deal with large amounts of data and records to settle claims for personal injury, workers' compensation cases, and other medical-related claims. Medical records play a significant role in the settlement of claims and insurers cannot afford to go wrong with them. 
Many companies rely on in-house teams without realizing the potential gaps being left in the details. Outsourcing medical record review to a company with medical professionals on staff will ensure accurate and complete interpretation of the complex medical terminology found within medical records. More details provide more opportunities for data points on the claimant(s).  Capturing accurate medical data ensures accurate reporting to help pave the way to a speedy resolution.
LMI's Insurance Defense Experience
LMI reviewed thousands of pages of medical records for a group of 100 plaintiffs claiming they suffered injuries due to asbestos exposure while working for an insured company. LMI used expert cursory review skills to identify and report on the asbestos-related diagnoses (asbestosis, asbestos-related pleural disease, mesothelioma, or any diagnosis documented as "asbestos-related"), including a breakdown of these percentages. 
In a subsequent phase of the litigation, LMI created a data abstracting database to collect the information from the records and created abbreviated executive summaries. This approach delivered specific narratives and statistical analytics for the overall plaintiff pool. 
The resulting aggregate statistics proved 98% of injuries did not meet the minimum requirement leading to resolution. 
How Can LMI Help Insurance Companies with Medical Record Review
LMI specializes in medical record review, record collection, document and data management, and data analytics. Our experienced medical professionals include RNs, RN/JDs, CLNCs, MDs, and Allied Health professionals. We are dedicated to leveraging our team's diverse talents to partner with your team to complete tasks, meet goals, and increase productivity. We can help your company investigate claims to support negotiations and settle insurance claims. 
LMI delivers consistent, high-quality work and the seamless ability to flex when claims and litigation strategy shift. Insurers realize cost savings because LMI can perform record review services efficiently and at cost-effective rates.