What is a Diverse Supplier?
A business that is more than 50% owned or controlled by an underrepresented individual or group (i.e. woman, minority, veteran, etc.). 
What is a Supplier Diversity Program?
A proactive business program encouraging the use of small and diverse-owned businesses to enable these companies a more equal share in the market.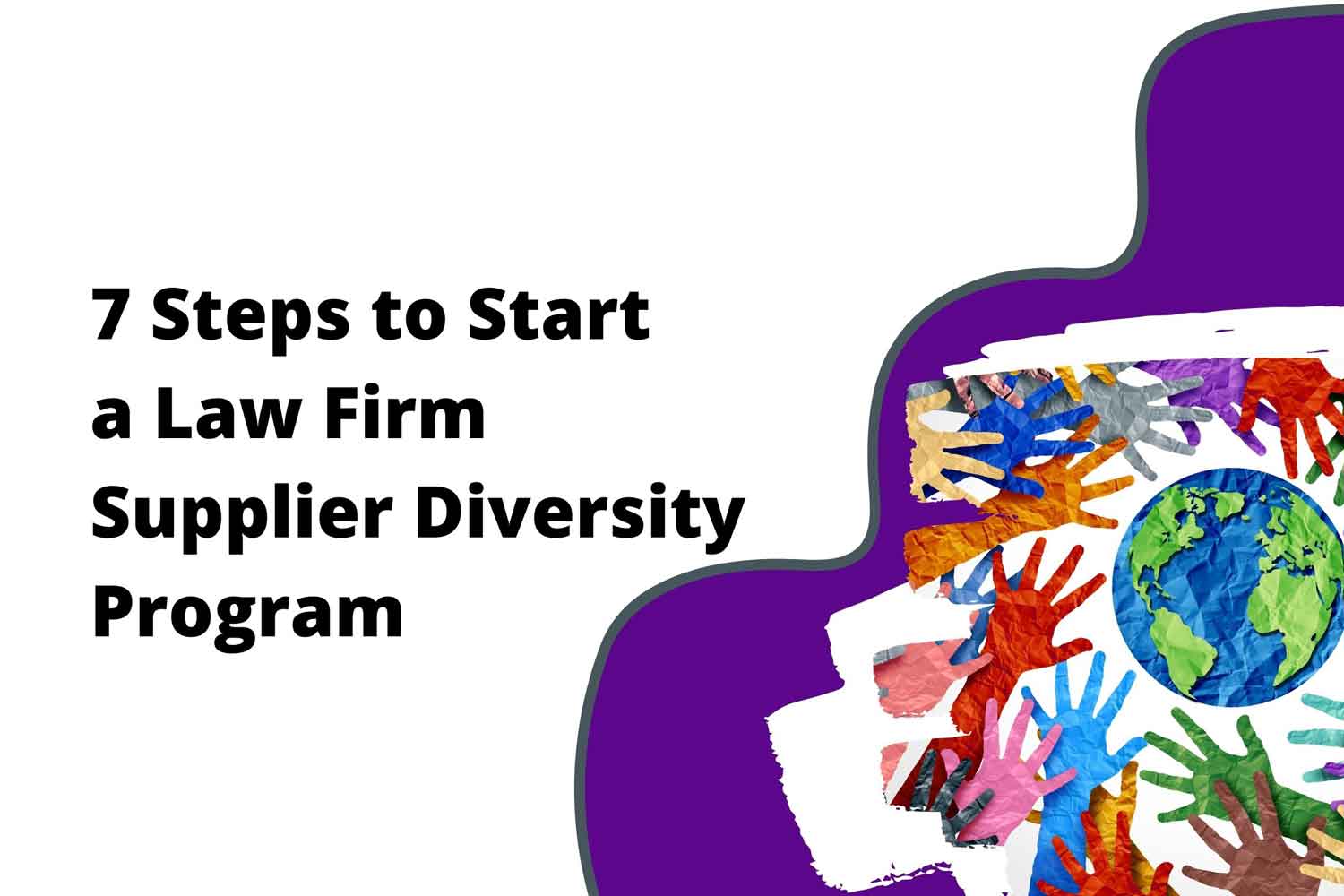 Supplier diversity programs are procurement's sure advantage. The program encourages companies to procure from businesses owned and operated by underrepresented individuals and groups. Many large corporations have long enacted these programs and are looking to their partners and suppliers to do the same.
If you want your firm to be recognized by a corporate client, consider starting a supplier diversity program. It is inevitable that this will soon become a non-negotiable for most organizations. All business benefits aside, it is simply the right thing to do and can add to your firm's diversity, equity, and inclusion efforts.  
Benefits of Starting a Supplier Diversity Program at Your Law Firm
Fostering innovation
Expanding your network pool
Increasing quality 
Decreasing costs
Benefits of Becoming a Certified Diverse Supplier
Competitive advantage 
Increased visibility 
Network support 
Eligibility for recognition and awards 
7 Steps to Start a Supplier Diversity Program
1. Build Your Business Case
Create a plan detailing how the program will begin and move forward, how it will be implemented into the sourcing process, and how you will measure the program's success is a vital first step. This document will be your building blocks for the program.
 
2. Executive Buy-In
Take your business case and present it to your firm's executive leadership. This step is critical for program success. Without support from the top down, your program will never get past the beginning planning stage.
 
3. Define Your Goals
As with any business plan, there needs to be clearly identified goals that can measure the progress of the program. Examples include diverse supplier spend, diverse supplier count, and cost savings.   
 
4. Establish Baseline Spend
Establishing a baseline spend on diverse suppliers will set your program up for success. Your firm is committing to spending a set budget. Use the committed budget to your program's advantage and educate your team to ensure the budget is spent. Supplier spend is a great metric to measure your program.
 
5. Establish Sourcing Process
The program needs to influence your firm's buying decisions and be a part of the provider vetting process. Define how your firm will centralize the program into buying decisions and prioritize economic and social equality.
 
6. Leverage Business Networks
Find diverse businesses on various enterprise networks such as Women's Business Enterprise Network Council (WBENC), Small Business Association (SBA), National LGBT Chamber of Commerce (NLCC), and National Veteran Owned Business Association. Leverage the wide audience these networks offer to expand your firm's reach.
 
7. Improvement Plan
A key step in any program is measuring your efforts and preparing next steps for program improvement and growth. Set goals that are measurable and achievable as it relates to your industry. Staff education should be a large part of your program launch and program improvement plan. The more the program is ingrained into your firm's culture, the greater chance it will have of continued success.
Supplier diversity programs benefit all parties involved, but it is not a one-and-done item on a checklist. It is an ongoing process of communication and measurement to stay on track and continue to progress toward your goals. Your program should set a clear path for your firm to follow, be goal-oriented, and implement a strategy for continued growth both financially and socially. Supplier diversity solution providers are a great resource to help you get started today.
Supplier Diversity Providers
LMI's Supplier Diversity Program
LMI has long been sourcing services from diverse businesses, but officially launched a supplier diversity program in 2020 when we launched our Corporate Sustainability and Responsibility Program. In 2020, we moved to a fully remote workforce leading us to re-evaluate our short-term and long-term goals related to our environmental, economic, and social impact. Each year we look to expand the program and promote diversity, equality, and inclusion within our organization.