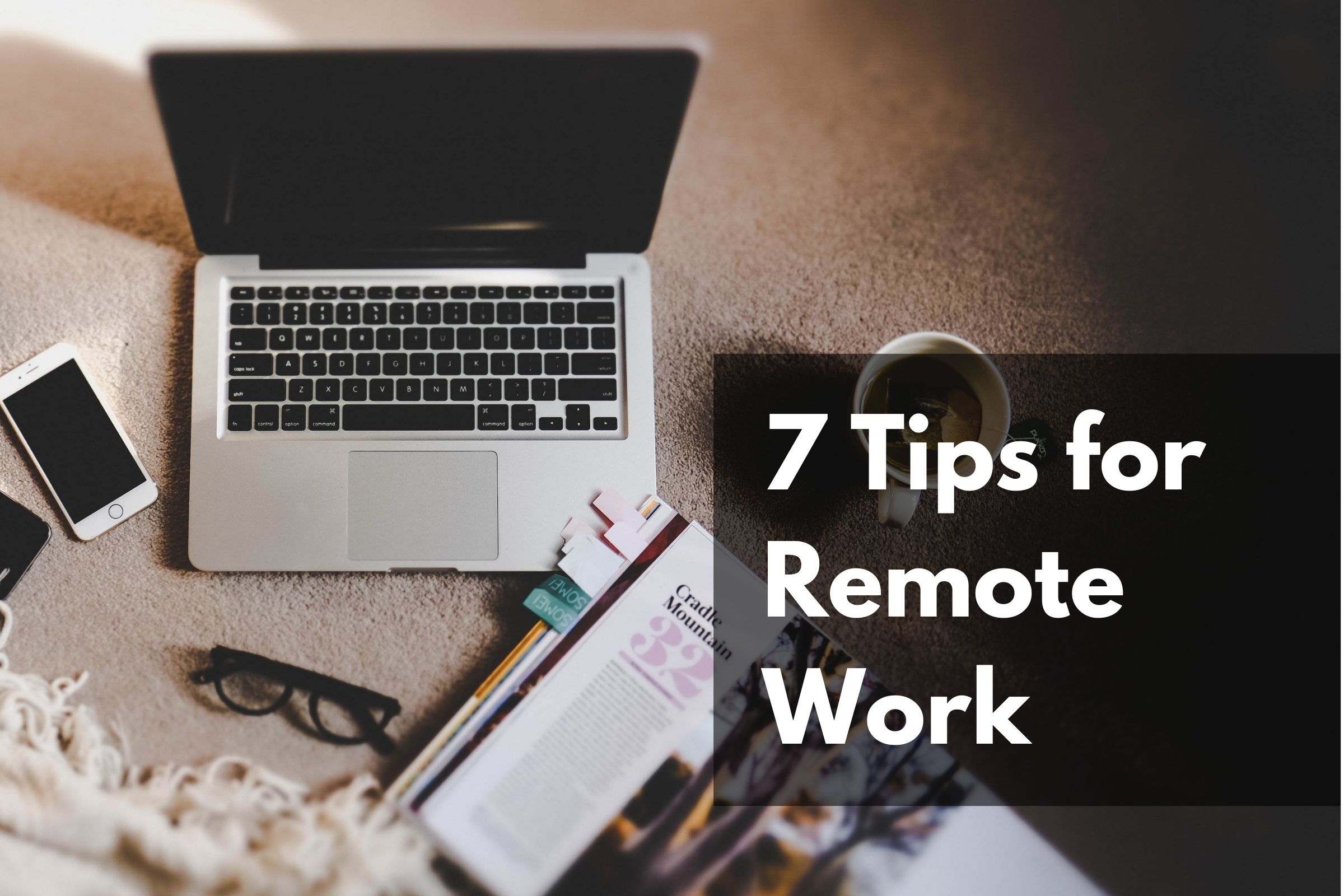 Businesses all over the world had to rapidly adapt their staff and operations to remote working capabilities in response to coronavirus restrictions. During a time when pulling together as a community has never been more important, we reached out to our remote working LMI community who have been working from home for many years – some for 20+. One way we want to give back is to our digital community by sharing tried and true best practices while working from home.
"LMI trailblazed the idea of remote work over 20 years ago to provide our clients with the most diverse and qualified professionals. We've learned a lot throughout the years and hope that these tips help you and your family transition to the new normal we've all been introduced to,"  said Elizabeth Juliano, LMI's Founder & CEO
Here are seven best practices from our experienced work-at-home team and their personal stories about why they maintain these daily behaviors.
1. Get ready for the day
"One piece of advice that always works for me is getting up and getting dressed. It always puts me in the correct mindset. I do not dress up, but I do get up, shower, and put makeup on and fix my hair. It makes me feel so much better about myself and just lets my body know that it's time to work." Raechel, AL
"We laugh about not staying in PJ's, but I do support that as the most important of all tips. In 15 years, I have only worked in PJ's a total of 3 days!"  Marilyn, AL
2. Create a dedicated workspace
"For those who are temporarily working from home without a dedicated office, even in confined quarters, find an area you can claim as office space.  I prefer to be near a window because it makes me happier." Tamela, MO
"It's been most efficient for me working when my workstation is set up right next to my router as opposed to in a different part of the house (I am using Wi-Fi not wired connection). When I was working in other parts of the house my connection would sometimes disconnect from the network and I would have to reload everything, however that has not happened once since moving my workstation right in front of my router. Just a tip for anyone who might be struggling with connectivity issues, even a small detail like that can make a big difference."  Jonathan, OH
3. Schedule a routine and stick to it
"I've been working remotely from home for 8-10 years. For me, it's important to always keep a routine. About every hour or two, I make sure to get up from my chair to stretch my legs and make a cup of tea. When I clock out for lunch, I completely step away from my computer.  I may do some yoga, take the dog outside for a short walk in the yard, or throw in some laundry.  It's kind of like a mid-day reset. When I'm done for the day and clock out, I completely shut off and power down my computer to focus on my family."  Jennifer, NY
"For me it is keeping a strict routine.  I get up at the same time every morning and before work I shower, eat, dress, etc. as if I were leaving the house to go to work.  I have a set time that I am in my office ready to work every day.  Also, I have no distractions, meaning, no background noise such as a TV, music, etc.; and my family knows from 9:50 am to 6:30 pm, to not contact me unless it is an emergency just as if I worked outside the home."  Simona, OH
4. Set standards with family members in and out of the house
"This is especially important for those that have others at home. A lot of people, including family, think because you are home, you are available for anything.  When I started working at home, I made a sign using a white board with erasable markers.  I wrote on the sign, Do Not Knock or Enter, working.  Then I would write a time that I would take a break or lunch.  My husband at the time was the worst offender.  He thought just because he had something to say, he should interrupt.  Let everyone know that just because you are working from home, it doesn't mean you are available to talk on the phone.  My youngest would call, ask what I was doing, I replied working and she would go into whatever she wanted to tell me. My Mom was just as bad.  You must tell them not to call (except emergency ---a TRUE emergency) until after working hours.  This one can cause the most hurt feelings, especially if those calling are not used to you working at home."  Lisa, AL
"Our daughters are all grown, but they were little ones at one time during my remote career.  Ensuring they don't invade your workspace and interrupt your schedule can be a challenge. Try to keep the kids occupied with homework or play and let them know they can see you at intervals during breaks. This doesn't always work, right? But when it doesn't, try finding something else to occupy them as soon as you can so you can get back on track. Above all be patient with them. Pro Tip: Don't leave your laptop unattended around the children!!" Gene, TN
5. Be early, even at home
"I always sign on early, even if I don't punch in. This helps to head off any potential connection issues. Put the number for your company's help desk, your supervisor, and the attendance line in your phone just in case you are not able to sign in for any reason. It's good to have these numbers handy."  Susan, OH
"I always make sure to get up in the morning with plenty of time to spare prior to my starting time in case I have difficulty with my internet connection or computer issues.  I make myself get ready in the morning as though I am going to an office out of my home.  With my kids now being at home, it can be, and has been, slightly more challenging." Jamie, KY
6. Maintain regular communication with your team
"Keep up regular communication. Many who are not used to telework, and need to see the faces of people, see their coworkers, etc. may benefit in go-to meetings with the group, or go-to meetings where the faces are shared on the screen. In the past, my family has used applications such as Skype and FaceTime. We have recently begun using Google Hangouts. Also, Microsoft has a Go-To Meetings platform, and like Google Hangouts, multiple people can be on at the same-time." Lydalyn, OH
"Pick up the phone. Email and messenger are convenient and quick, but sometimes it is nice to speak with a co-worker and discuss work and how best to handle something rather than just emailing back and forth. Real conversation helps breaks up the work at home isolation." Beverly, OH
7. Know yourself
"I have 2 laptops – a HP 17-inch and a 15-inch Surface laptop.  I find both easy to use because they are large enough that I can split the screen.  Anything smaller, I must tab back and forth on tabs on the Taskbar and that gets very tedious and hard to follow. My perfect tech set up is the 17-inch laptop and the 24-inch 2nd monitor. Sometimes music and background noise help and other times I need perfect quiet – get to know what helps you focus best." Audrey, CO
"Each of us are different and each home situation is different.  What may come easily to some may be challenging for others.  Know yourself.  Know your strengths and limitations. Keep in mind that with some preparation, the right tools, and the right mindset, a remote workforce can be just as collaborative and productive as an on-site workforce." Mark, OH
The best advice for anyone, regardless of your hurdles, is to be honest and kind to yourself. Accept your challenges and opportunities, make continuous changes to better your productivity and mood, and most importantly, connect with others. Working remotely presents many challenges, however, working remotely in a pandemic presents hardships. If you are struggling in an area, do not be afraid to seek help or advice from others. We are learning together.