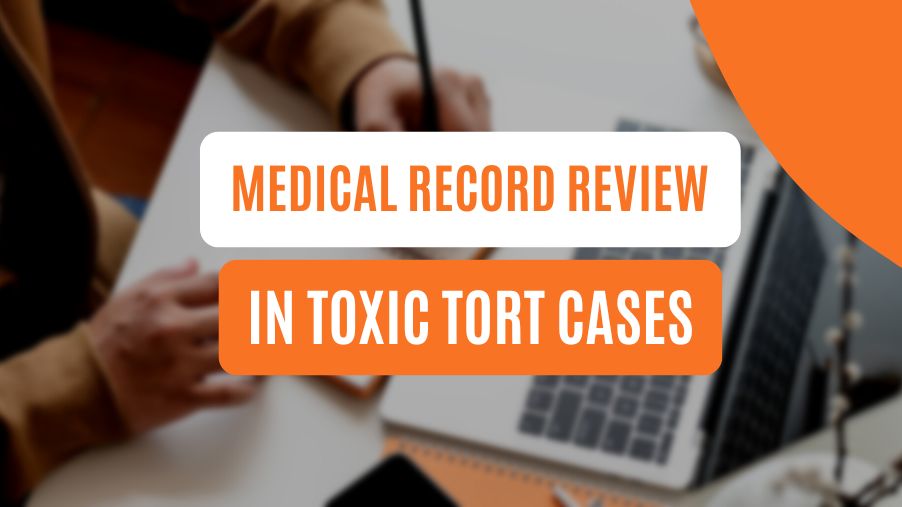 In toxic tort cases, plaintiffs claim various personal injury(s) and/or property damage(s) as the result of alleged exposure to toxic substances. Medical record review services provide valuable insight into plaintiff history, assisting the defense team in matter resolution.
Types of Medical Record Review Best Suited for Toxic Tort Cases
Chronologies 
Timeline of medical visits in chronological order
Timeline displays all allegation-related medical and non-medical events 
Pertinent information is extracted from records and placed into customized formats 
Summaries 
Summary of identified exposures
Work history of the plaintiff
Alternative causes for injuries 
Pre-existing health conditions
Family history of the plaintiff 
Extensive chronologies and summaries can be tailored to your case needs. Nurse Analysts work to identify alternative causations in records that may have contributed to the alleged injuries.
Benefits of Medical Record Review in Toxic Tort Cases
Summary of exposures identified 
Other causes of injuries 
Pre-existing health conditions
Summary of all medical history 
Visit-by-visit information related to the alleged injuries 
Common Attributes of Medical Record Review in Toxic Tort Cases
Exposure dates of the alleged injury
Verification of plaintiff's demographics 
Exposure locations to verify plaintiff allegation(s) 
Examples of Data Reviewed by Nurse Analysts in Toxic Tort Cases
All medical records including office visits, hospitalizations, lab testing, radiology reports, and pharmaceuticals prescribed and/or taken
All legal documents provided 
Employment records
Social Security numbers 
Any/all testing performed 
How Does Medical Record Review Assist in Litigation?
Based on the records provided, a case is built to identify all possible causes for the alleged injury(s)
Paints a picture of the life of the plaintiff 
Provides comprehensive information for the defense team to use at trial or for settlement discussions
In need of medical record review services for a toxic tort case? Contact us today for a free consultation.