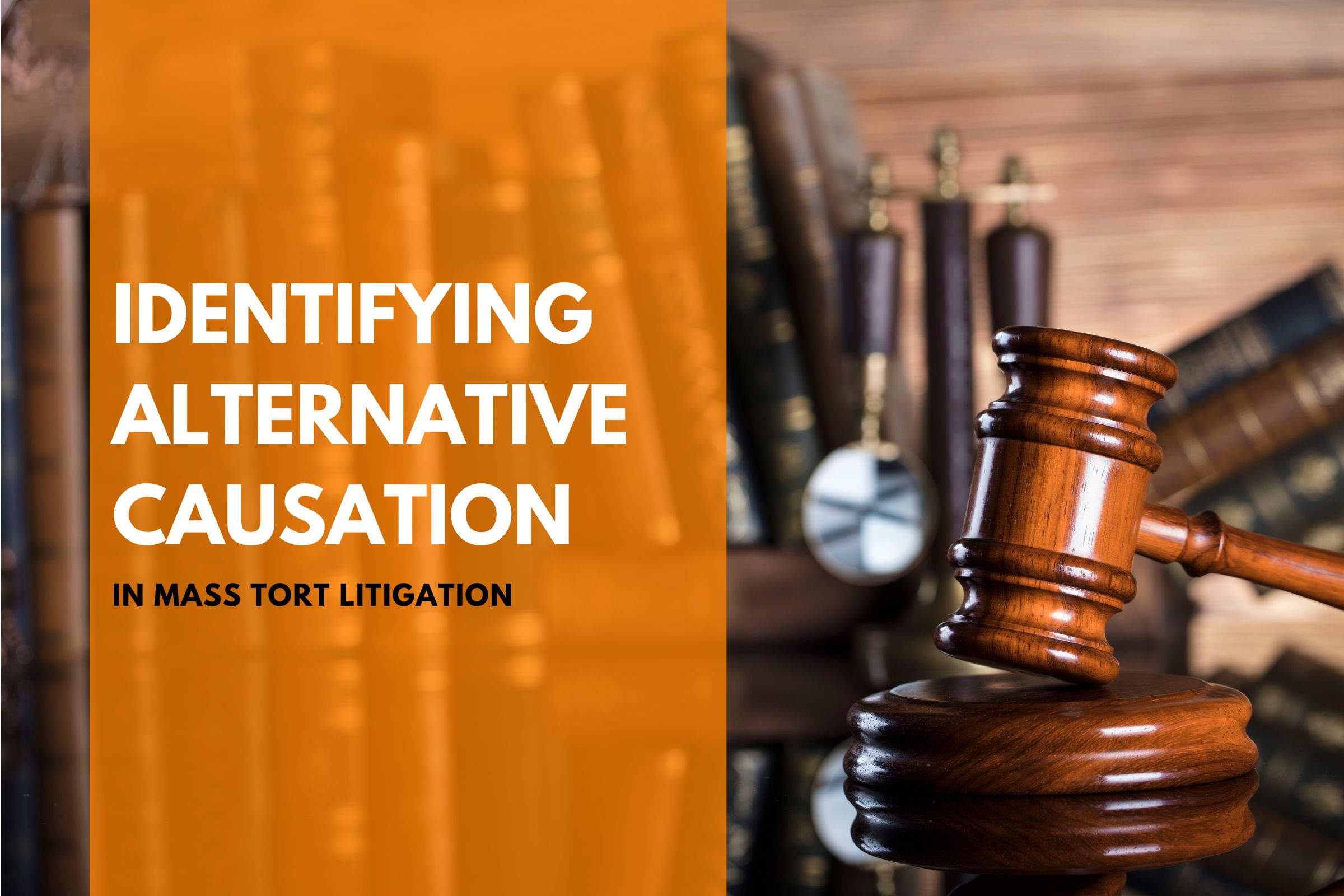 In mass tort litigation, the issues alleged by plaintiffs are similar, but their factual situations differ significantly. Product liability cases and toxic torts cases can be very complex. Plaintiffs must prove causation to win the case.
Medical record review and analysis benefit defendants through the potentiality of identifying alternative causation for the alleged injuries. Identifying alternative causation consists of a clinician reviewing and identifying additional or alternative factors that could cause the alleged injury or illness such as:  
Pre-existing medical condition(s)
Occupational hazards 
Recreational activities 
How is medical record review and analysis helpful in mass tort litigation?
Deposition preparation
Focused review for medical experts
Better clinical understanding for settlement negotiations

Medical analysis determines if the medical records support the allegations and if the alleged injury occurred as the plaintiff asserted. It reveals risk factors and alternative causation as well as the extent of injuries, and these are invaluable in defending the case. – LMI Medical Analyst 
Types of records reviewed in mass tort litigation
Legal documents
Complaints, Plaintiff Fact Sheets, Plaintiff Profile Forms, Plaintiff Assessment Questionnaires, Census Forms, Answers to Interrogatories, etc.
Medical records
Hospitals, physician offices, pharmacies, lab and radiology facilities, insurance, etc. 
Miscellaneous record types
Billing, social security, education, employment, military, etc.
[See: 5 Types of Medical Record Review for Litigation]
Types of medical record review that can assist with evaluating alternative causation in mass tort litigation
Data abstraction
A collection and comparison of data from legal and medical records. Data is compiled and various reporting can be pulled from the data, including individual reporting along with compilation reporting across all plaintiffs or subsets of plaintiffs.  
Risk factors can be abstracted from both legal documents and medical records. This allows for comparisons between what the plaintiff claims in the legal documents versus what was identified in the medical records.  
Example: Data can be compiled to determine which plaintiffs are smokers, how much they smoke, and how long they have smoked.  
Chronology and Summary
A timeline of medical visits in chronological order along with a summarization of various pertinent points including potential risk factors and alternative causations. Clinicians are highly skilled at identifying potential risk factors/alternative causations. 
Below are examples of factors that clinicians would be looking for when identifying risk factors and/or alternative causation:
MEDICAL & SURGICAL HISTORY
Diagnosed conditions related to the alleged injury
Example:  
Allegation of stroke   
Prior medical history of transient ischemic attacks
Conditions indirectly related to the alleged injuries
Example:
Allegation of disability after right knee surgery complication
Medical history on the date of the knee surgery indicated the plaintiff was not working at the time of surgery due to anxiety
Undiagnosed conditions or symptoms similar to the alleged injury
Example:
Allegation of myocardial infarction (heart attack)
Plaintiff denied any prior cardiac issues at the time of the alleged injury admission, but an EKG performed three years prior had revealed ischemia consistent with acute infarction
Blood pressure consistently elevated, but hypertension was not diagnosed
Family history
Example:
Allegation of cancer
Plaintiff's father has the same type of cancer
Social history
Example:
Smoking, alcohol, illicit drug use
High-risk behaviors
Patterns of non-compliance, misuse
Example:
Frequent missed follow-up visits
Not following dosage instructions for prescribed medications
Forgetting to refill medications
Stress tests were recommended multiple times, but the patient wished to delay until after their vacation
How LMI can help
LMI's medical and healthcare team provides an extensive and versatile collection of talents including RNs, RN/JDs, CLNCs, MDs and Allied Health professionals. Our specialized professionals collaborate with you and your team to determine the appropriate type of medical record review product to best support your needs and litigation strategy. As the matter progresses and you gather more intelligence on alleged injuries, or as your legal strategies shift, our team is there for you ready to adjust and take action. 
Do you need medical record review services? Contact us today.