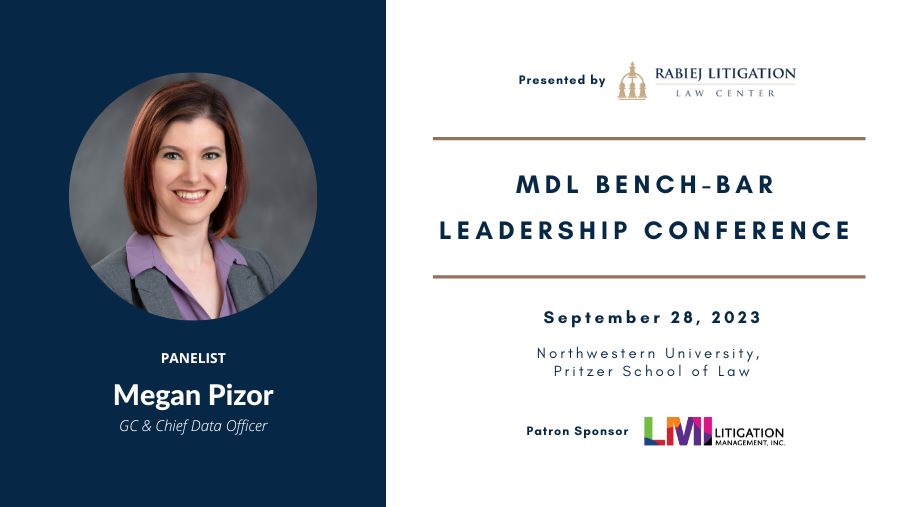 Megan Pizor, LMI's General Counsel & Chief Data Officer is speaking at the MDL Bench-Bar Leadership Conference on September 28, 2023, hosted by the Rabiej Litigation Law Center and Northwestern University Pritzker School of Law. The conference brings federal judges, plaintiff and defense attorneys, and other industry experts together to exchange insights about different case-management practices in mass-tort MDLs. 
Participating in a session with other legal experts, Megan will speak on a panel titled, "Centralization of Premature Mass-Tort MDLs; Early Screening of Claims for Merit", covering topics such as:
Challenges in vetting claims in MDLs
JPML's explanations for rejecting objections asserting influx of meritless filings 
Liberalizing JPML criteria applied to centralizing actions
Draft mass-tort MDL maturity guidelines 
and more 
LMI is a proud patron sponsor of this event. 
About the Rabiej Litigation Law Center
The Center holds three annual invitation-only bench-bar conferences at various locations and law schools around the country. The conferences provide a forum for deep dives into timely issues, which pose seemingly intractable procedural difficulties for the bench and bar, that result in unfairness and inefficiency, wasting time and money. Following the conferences, volunteer teams of judges, lawyers, and other experts are formed to develop solutions to the problems identified at the conferences.
The Center's conferences play a unique role in providing a forum for the bench and bar to share and understand their respective experiences, insights, and concerns as a first step in developing solutions with as much consensus as possible to improve the administration of justice. 
This conference is open by invitation only. Click here for more information.